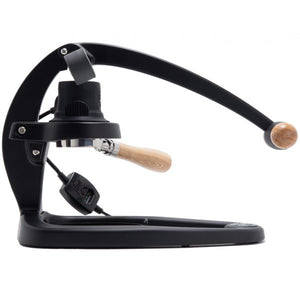 Flair 58
Sale price Price ₱31,700.00 Regular price
 Flair 58 is a fully-manual, professional grade, lever espresso press that is focused on maximizing the workflow and the espresso from at-home extractions. The Flair 58 features Flair's first industry standard 58mm portafilter as well as a more robust frame and lever for ease of extractions at higher pressures. The 58 also includes specific customer requested upgrades to the preheating process by providing our Preheat Temperature Controller. Just set your brew head to one of three heat settings to ensure proper preheat and thermal control in every shot.
The Flair 58 is the gold standard in manual espresso from Flair. Unlock the true potential of your extraction with the Flair 58.
The low-flow 18 gram basket is perfect to any home brewer's kit, and allows for a dose range between 16-22 grams. This low-flow basket, when compared to the standard straight-walled basket of the Flair 58, allows for an easier dial-in process by allowing a grind that is coarser for proper extractions, thereby increasing the overall compatibility with a range of grinders. The straight-walled basket will require a grind that mimics a commercial machine.